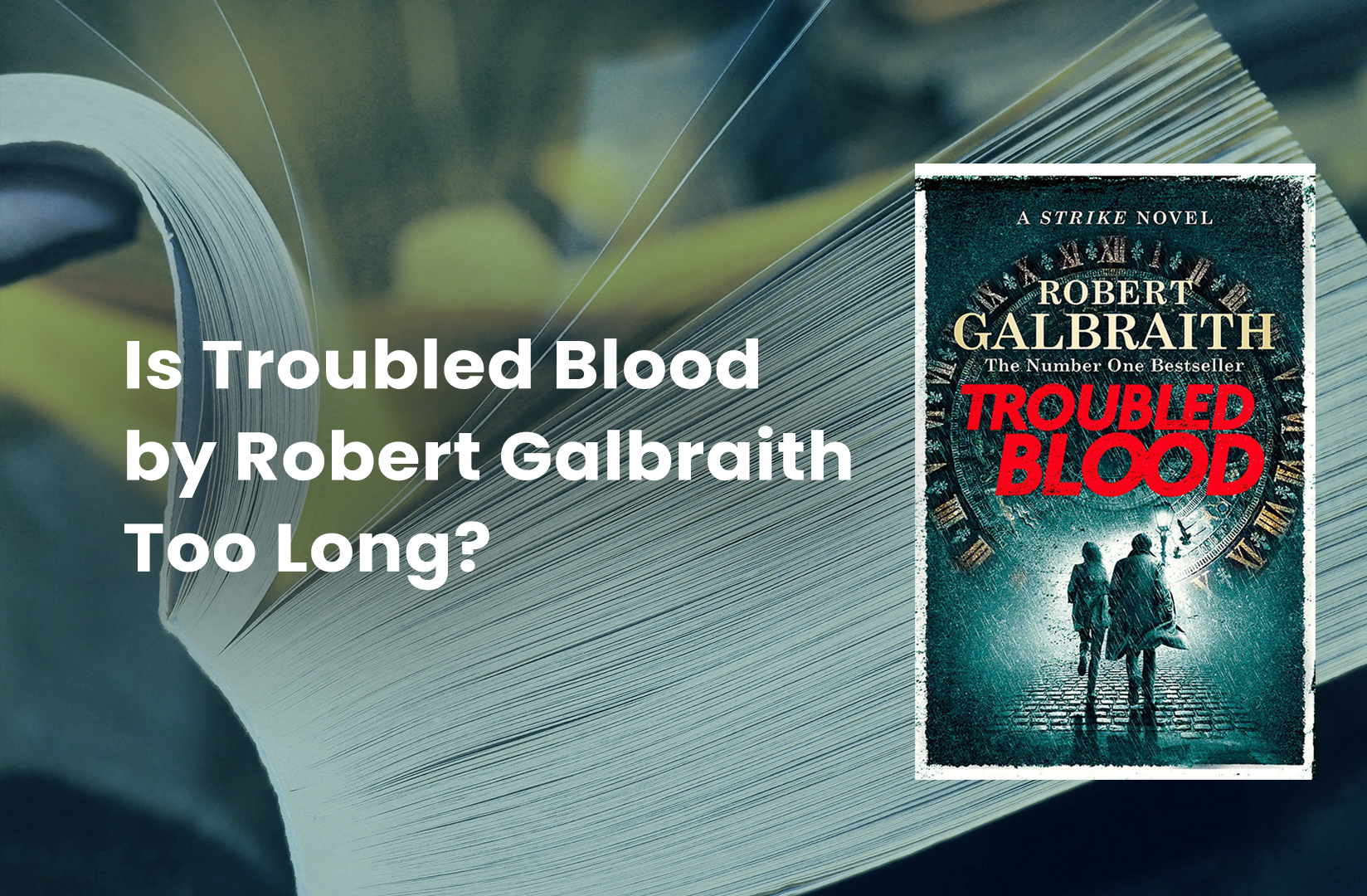 Is Troubled Blood by Robert Galbraith Too Long?
Private Detective Cormoran Strike is back in the Troubled Blood – the latest in the Strike series.
First thing's first, I love the Strike books, and Rowling is such a brilliantly talented writer! Strike and Robin Ellacott make an extraordinary duo, and I was super excited when the book was announced. The cover had me intrigued – well designed and enticing. The pages of the paperback are white instead of the cream we usually find with commercial thrillers. This, along with it being twice or even thrice as long as most novels, was something else that definitely differentiated it!
It was heavy, and to be honest, it felt odd in my hands. The last time I felt like this was when I read Under the Dome by Stephen King, which I've never regretted—it was worth the pages and sleepless nights.
Troubled Blood starts relatively slow, but this is not a bad thing. You learn a bit about Strike's past, which is always interesting and get the details of their new and somewhat strange assignment. The investigation of the mysterious disappearance of a woman forty years ago. The plot got me hooked. It was unique. I didn't expect Strike to be taking cases from so many years ago, but he does, and the thought is exciting.
I am about halfway through and still attached to the characters and invested in the story. It is so well written that it keeps you turning pages, and I'm glad there are a lot of pages because I'm enjoying what's written on them! It is detailed, and although there are points, especially at the beginning, I felt were a little unnecessary or too detailed, it certainly wasn't an issue. I quite liked the additional details and gradual incline. It reminded me of Dan Brown's books at times – which is certainly not a bad thing.
Yes, there are so many reviews online that complain about the length of this book, and I can understand that long books are not for everyone, but I think when a book is as good and well written as this, you don't complain. I am pretty convinced that many of the negative reviews are written by people who haven't actually read the book!
The Harry Potter books are long – no one is complaining about them. I think people get very pedantic about uniform—yes, there are some industry guidelines but no specific rules on the length of a book. I think people need to get over it and enjoy the read.
If you are specifically looking for a faced-paced thriller with the standard 70,000 to 90,000 words, Troubled Blood is not for you. But if you are looking for a longer, exciting, well-paced thriller, then you will love this.
In my opinion, Troubled Blood is long, very long, but not too long, and I pretty sure that towards the end, I will feel it is not long enough!
I will write a detailed review soon as I finish it, so watch this space.
Also, because I love reading and talking about books so much, I am starting a Facebook book club and would love for you to join! Come on… it'll be fun—we'll talk all things books. We can select a book every month, and we'll read it and then dissect it at the end of the month.